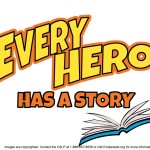 "Every Hero Has a Story" this summer at the Bartlett Public Library.
Grab your cape and favorite books and join us for the BPL's summer reading program. Events will be held weekly to celebrate our heroes as well as reading! Activities will be hero- themed and designed to promote literacy.
Defeat the "summer slide" by reading and earn prizes by playing our Summer Reading BINGO. Summer Reading BINGO logs will be available throughout the duration of the program.
No registration is required.
Tuesdays, July 7th- August 4th
9:30 Story time program for children ages 0-5 and their caregivers
10:00 School-aged program for students in grades K-6
August 4th 10:00 am
Don't Miss out on out on our final celebration brought to us by the Children's Museum of New Hampshire:
High Flying Heroes!
"How does flight work? Who are the pioneering high-flying heroes in the history of aviation? Why does a kite fly through the air? These questions and more will be answered in this summer's library outreach program!
A museum educator will lead children in a one-hour hands-on workshop filled with exciting science concepts and demonstrations. Watch as a real Bernoulli blower makes objects hover in the air … build and test paper flying contraptions … and make a lunch sack kite to take home and fly!"
-taken from childrens-museum.org